Attention Firefighters, EMT's and Paramedics (Fire Rescue Athletes)
---
Fire Rescue Fitness is dedicated to providing quality workout programs for all levels of fitness. Here are the most popular FRF Workout Programs.
Fit for Duty Special!
For a limited time you can bundle any 2 programs for a special discount. Purchase any one FRF workout and receive the second at almost 50% off. To recieve the discount all you have to do is purchase any one of the programs below.
 Upon completion of one purchase you will be directed to a special offer page…
Limited Time Only!  Take Advantage Today!
**All Workout Programs are Instant PDF Downloads and Include Eating Guidelines, Stretch and Recovery Manual, Firehouse Recipes Book and Printable Log Sheets and Gym Companion**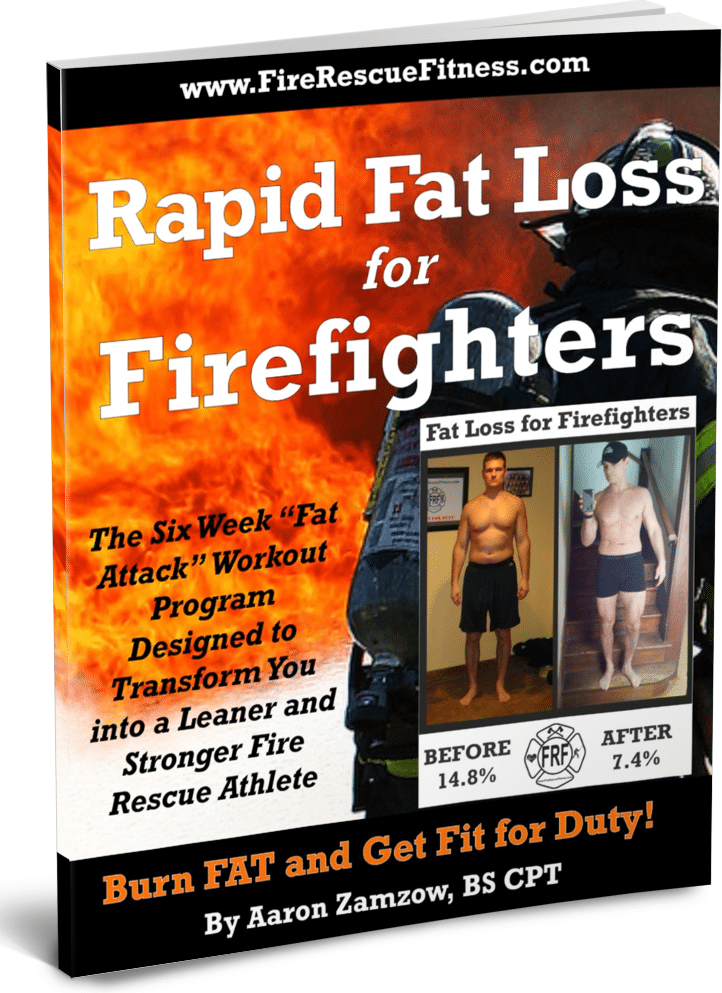 ---
The FRF Rapid Fat Loss for Firefighters Workout
---
Do your turnouts and uniform fit a little "tighter" these days? 
Do you struggle to climb stairs in your gear, lift the cot, and need a fitness program to get you "Fit for Duty"…Fast?
 Get 6 weeks of Metabolic Fire Rescue Workouts that will make you a Stronger and Leaner Fire Rescue Athlete…
The Rapid Fat Loss for Firefighters program was designed for those Fire Rescue Athletes that want to get leaner and stronger in only 6 weeks.    This comprehensive Fat Burning Program creatively integrates fire ground movements, crew workouts, 10-minute metabolic interval overhauls, challenge workouts and will get you stronger, leaner and more efficient on the fireground.  This program is intended for those Fire Rescue Athletes that have fallen off the fitness wagon and need an efficient plan to help get their turnouts and uniform fitting better.  The 6-week Rapid Fat Loss Program includes:
6-week Rapid Fat Loss Training calendar
Full-body efficient and effective workouts including 2 challenge workouts
4 different Interval cardio workouts including crew workout options
Over 30 Fat Burning Exercises that will challenge every muscle in your body
5 Highly Metabolic Interval Overhauls
Fire Rescue Athlete Training rationale
Includes workout options for on-duty and crew workouts (group workouts)
Core exercises and stretches (including a stretch and recovery guide)

Exercises Exercise tutorials and video links
These unique workouts are an instant cure

 for workout boredom AND fitness plateaus.

 
---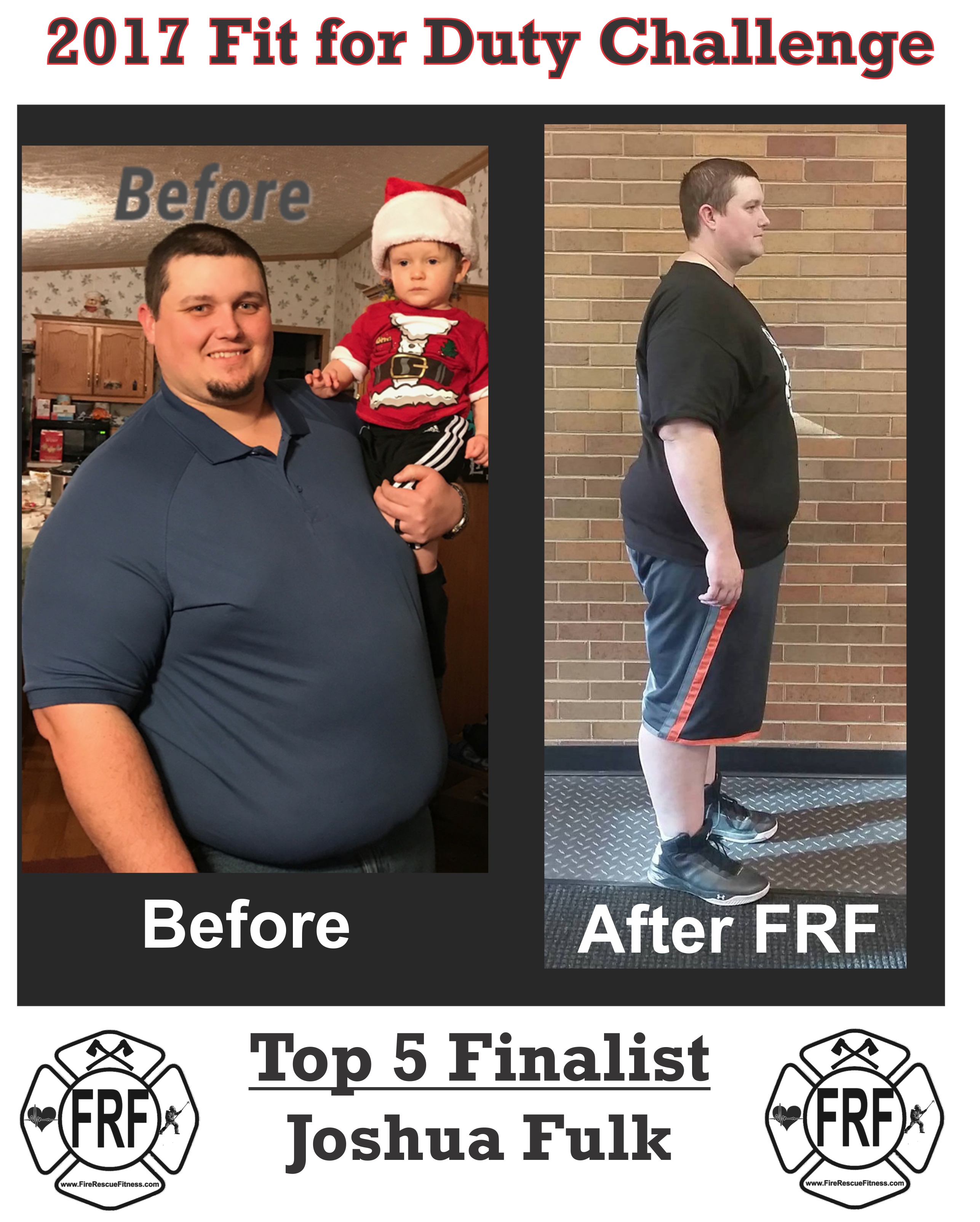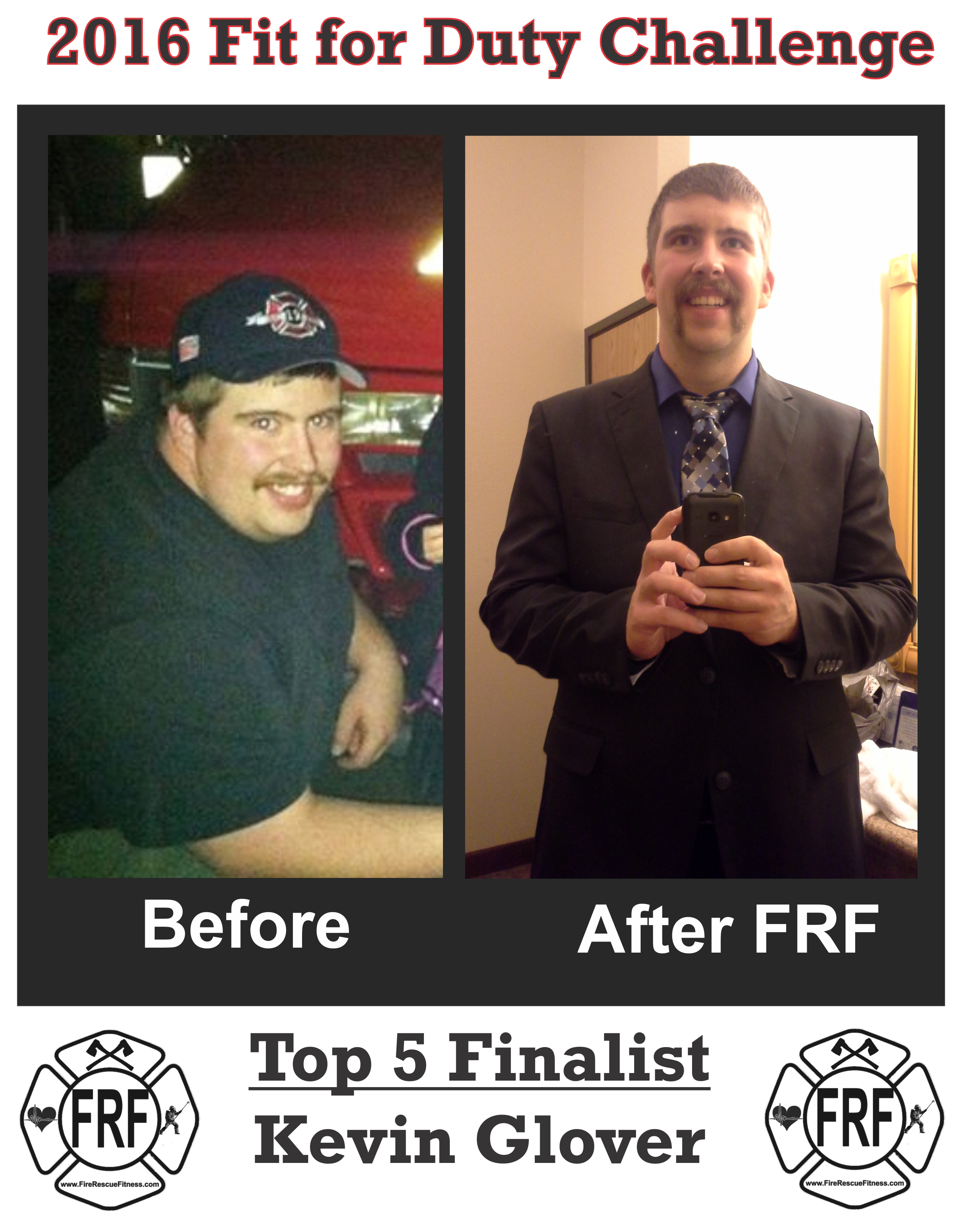 This is the same program that Josh Fulk and Kevin Glover used to lean up and get fit for duty. They lost over 50 pounds each and improved their perforance on the fireground…
or
Regularly $59.99
FRF Fit for Duty Challenge Special Price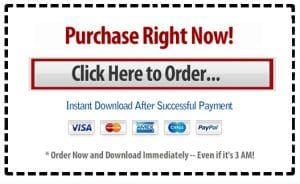 You can read more about Josh and Kevin's stories by clicking the pictures below.  This program works, there is a money-back guarantee if you are not satisfied.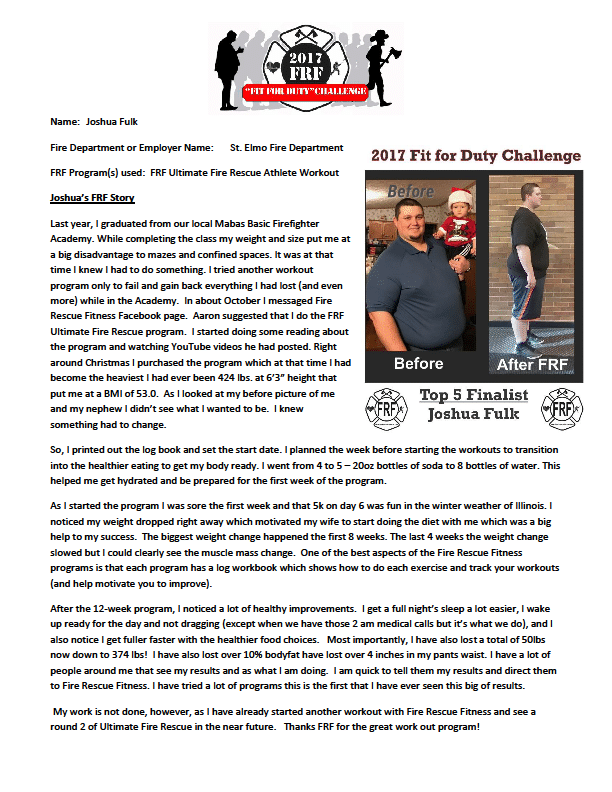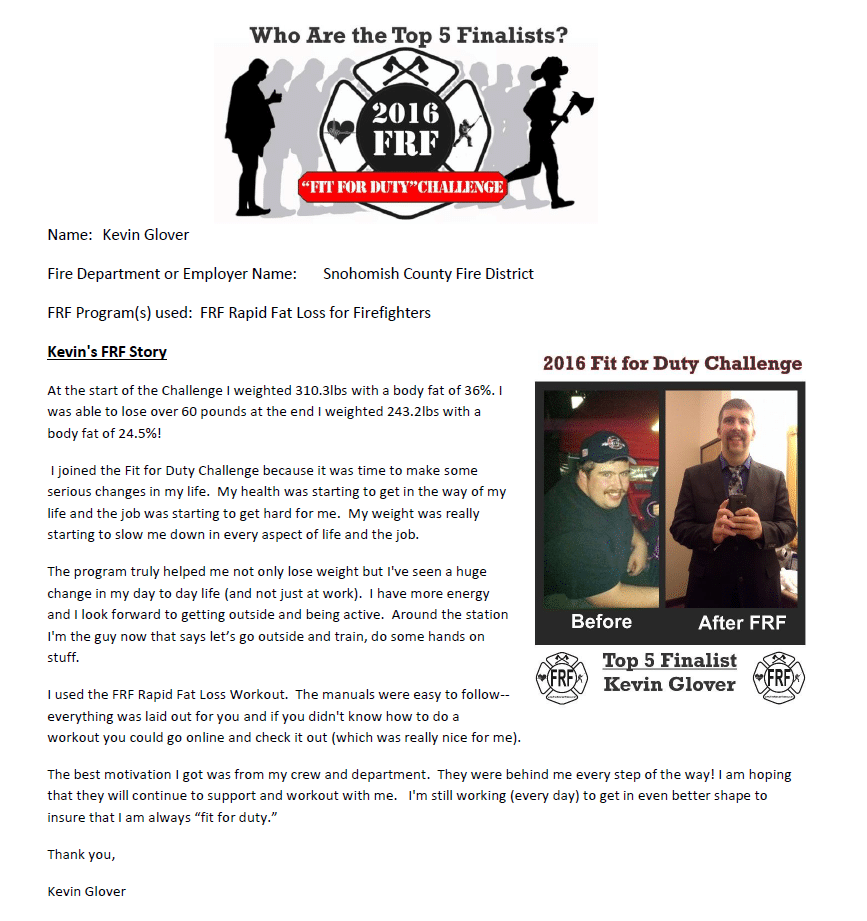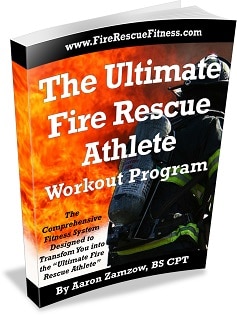 ---
The Ultimate Fire Rescue Athlete Workout Program
---
Discover the Ultimate Firefighter Workout designed to transform you into the Ultimate Fire Rescue Athlete….
Stop Wasting your time and money on workouts that don't address the physical demands of the Fire Ground….
This program is for the fire rescue athlete that has been working out off and on and  needs a good firefighter workout program to follow.  The FRF Ultimate will get you stronger, leaner and moving more efficiently on the fire ground.  This is our most popular program… and it works.
This is the most comprehensive workout system for Firefighters, EMTs and Paramedics. It will improve every aspect of your fitness (conditioning, strength, cardiovascular recovery, core power) and make you strong, lean, athletic and efficient. The workouts are easy to follow with exercise tutorials and are very practical. This program is 20 years in the making and is endorsed by thousands of fire rescue athletes and elite trainers.
The FRF Ultimate Fire Athlete Workout Program includes: 
 12-week training calendar with daily workout plan that explains what you need to do each day (strength, core, cardio, flexibility, recovery, power, intervals)

12 full-body efficient and effective (strength, power and conditioning) workouts

5 different challenge workouts to test your level of fitness and bring it up to the next level. These workouts are great to use with a group or your crew to push each other.

Core exercises and stretches that will make you move more efficiently and PAIN FREE. These exercises alone can add 5 years to your Fire Rescue Athlete career.

Interval Cardio Workouts that incorporate fire ground movement patterns.  These workouts are less than 30 minutes and can be completed on-duty, at home… anywhere really.

Over 150 Exercises with guides that are easy to follow (and printable) that instruct you on proper form. Each exercise links to a video showing it in proper motion also. Most importantly, the program explains how, why and when to do each exercise.
Fire Rescue Athlete Training Rationale- why the program is so effective…
---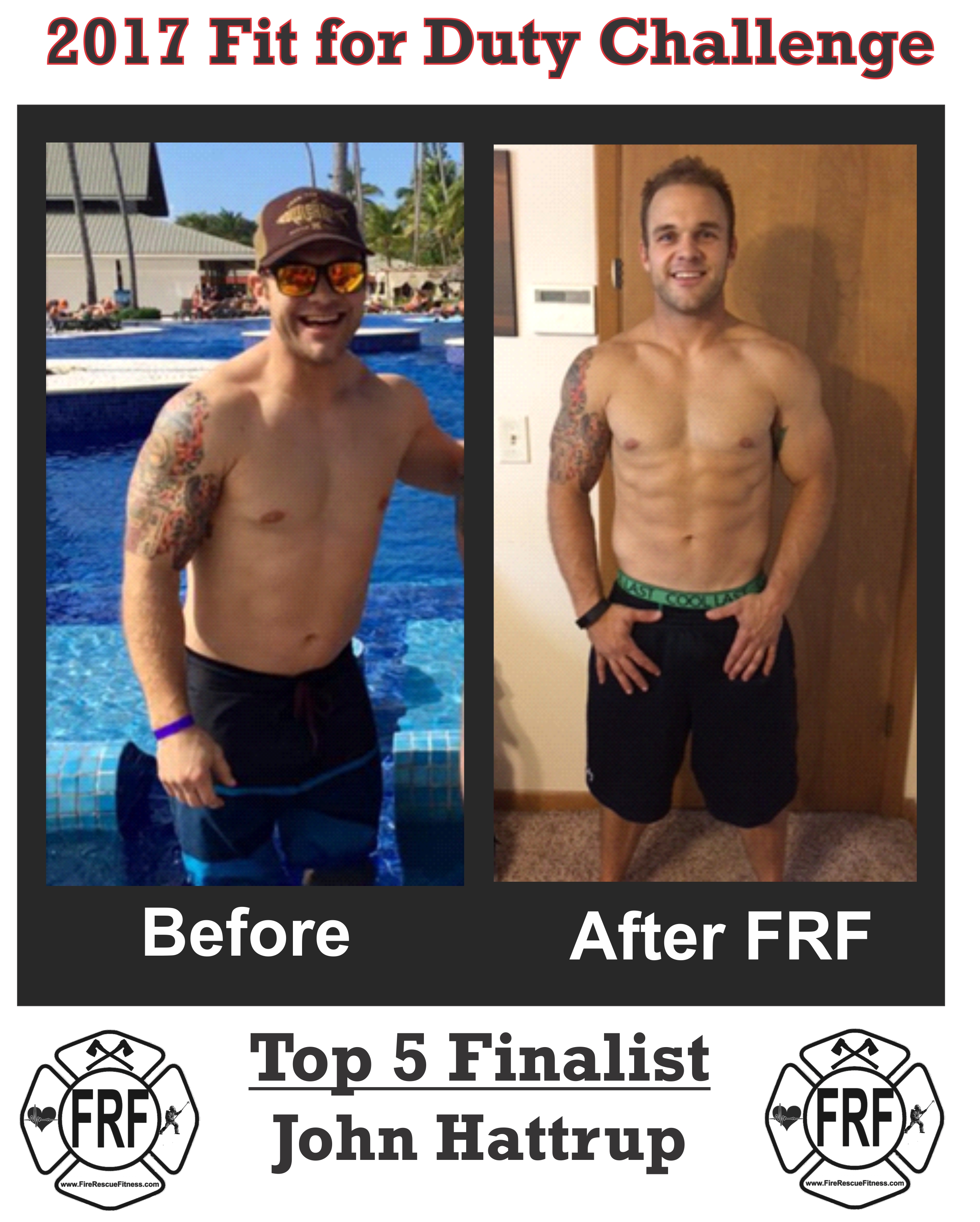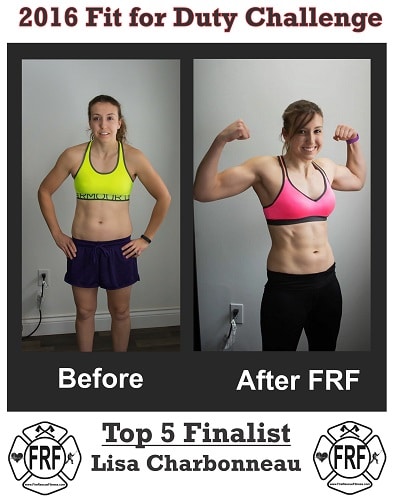 This is the same program that Lisa Charbonneau and John Hattrup used to get stronger and leaner on (and off) the fireground.
Or
Normally $99.99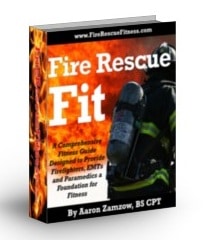 ---
FRF Foundations Program
---
Are you "that" Guy or Girl on your Crew?
Do you need to lose 20, 30, or 40 some pounds and need to Get Fit for Duty?
It all starts with this program. The foundations program was created to help Firefighters, EMTs, and Paramedics lose extra pounds, get stronger, get leaner and be a better Fire Rescue Athlete.  This is a 12-week complete workout program for those fire rescue athletes that haven't worked out for a time and need a step-by-step program to help them lose weight, gain strength and get fit for duty.
This comprehensive 12-week program that includes:
12 week Training calendar
Six full-body efficient and effective workouts
Exercise guides and videos
Fire Rescue Athlete Training rationale
Core exercises and stretches that will prolong your career
BONUS (If you order today) –The FRF Foundations Gym Companion and Log Sheets
BONUS #2 (If you order today) – The FRF Stretch and Recovery Manual