Results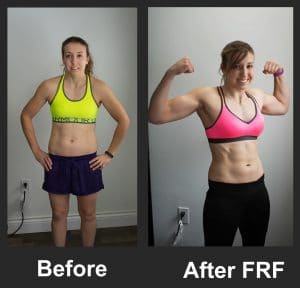 "I happened to be on Facebook one day and Fire Rescue Fitness popped up in my newsfeed, I followed the link and found a wall full of different workouts. I followed the page and began trying anything new that was posted. I then saw "The Ultimate Fire Rescue Athlete" program and after doing some reading about it I was hooked.
I started the challenge on January 1, 2016 at 118 lbs. I am now 121 lbs. The numbers don't really speak volumes compared to my success in my appearance and my abilities. My biceps gained one inch of muscle, which I really notice when I raise my arms to put my hair into a pony tail. My abdomen muscles are more defined now, than ever before.  When I first started I was able to run 5 km in 38 minutes and now I can run it in 32 minutes.
I really enjoyed the combination exercises; these are nothing like I have ever done before. I notice my endurance in just walking up large sets of stairs is no problem (even when carrying heavy things). I don't notice the extra weight of my gear and carrying a pack on my back to be a big deal anymore. I also can work harder and longer before losing my breath and feeling fatigued. This workout changed my life, I look forward to doing it again with alternative movements, I won't be caught exercising anymore because I now know that training is what I would rather be doing always changing, always improving. "
Thanks Aaron and FRF!
–Lisa Charbonneau
Click here for more information on the program Lisa used to get her results.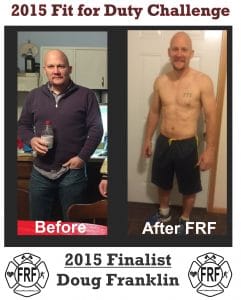 "Last summer, at the age of 43, while training for my fourth marathon I experience pain in my knee that sidelined me. After visiting the with my doctor I was told that I no longer had a meniscus in my right knee and that arthritis was so severe that I needed to stop running. This was tough for me to handle. First, the pain was an issue. Second how was I going to stay fit for duty? Running, at the level that I was running burnt a lot of calories. Not running at all caused me to put on weight as well. I saw my weight climb to almost 200 lbs in just a few months.
I came across the Ultimate Fire Athlete Workout and thought I would give it a try. I began the program on January 11th at 198 lbs. I had a 34 in waist. I just finished the 12 week program and I am now 170 lbs and have a 30 in. waist! 28 lbs weight loss and 4 inches!
I am in as good a shape as I ever was while running marathons and have added muscle in my arms, chest and abs that running never gave me. I have gained the strength and core balance that I need to do my job as a firefighter as well restored my cardiovascular fitness level.
I would also add that my knee is feeling wonderful. I did most of my cardio days on a bike or elliptical, I am able to do the sprint challenges and all of the overhauls no problem. The workout worked well for and with my knee pain issues. It also worked great with my schedule. I could get in and out and was also able to work it in while on shift."
Thanks Aaron for an Awesome Program!  
–Doug Franklin
Click here for more information on the program Doug used to get his results.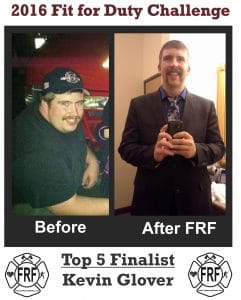 When I started the FRF Rapid Fat Loss Workout I weighted 310.3 lbs with a body fat of 36%. I was able to lose over 60 pounds at the end I weighted 243.2 lbs with a body fat of 24.5%!
My health was starting to get in the way of my life and the job was starting to get hard for me.  My weight was really starting to slow me down in every aspect of life and the job.
The program truly helped me not only lose weight but I've seen a huge change in my day to day life (and not just at work).  I have more energy and I look forward to getting outside and being active.  Around the station I'm the guy now that says let's go outside and train, do some hands on stuff.
The programs was really easy to follow–everything was laid out for you and if you didn't know how to do a workout you could go online and check it out (which was really nice for me). I'm still working (every day) to get in even better shape to insure that I am always "fit for duty." Thanks for this great program!
-Kevin Glover
Click here for more information on the program Kevin used to get his amazing results.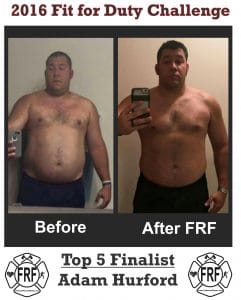 When I started the program, I saw weight loss initially, then noticed my cardio was much improved. People kept saying man you look good. After about a month then the body transformation just started booming. My final numbers were even surprising to me.  I lost a total of 45 pounds from 280 to 235, my body fat % went down from 33.2% to 25.8% and I lost a total of 22.25 inches and 6 pant sizes!  I can even see my abs again, the first time since high school.
The weight loss is great but the biggest change with using FRF was that my cardio and my ability in bottle drills was amazing. I could last on my bottle 2-3X longer. The guys at the station noticed and their confidence in me (and in the crew in general) improved.
I enjoyed the FRF workouts, they were easy to follow yet allowed for diversity.  They also used and followed a progression that allowed me to build a very solid "fitness" base. I used the stretching portion at the station and even got my crew involved.  We all noticed the increase in our flexibility!
My life is better because now, I feel like I can perform at a much higher level–I have more strength and stamina, which I was lacking before.  Thank you Aaron for breaking me free of my eating and working out demons and showing me the proper way to maintain a healthy lifestyle.  
–Adam Hurford
Click here for more information on the program Adam used to get his amazing results.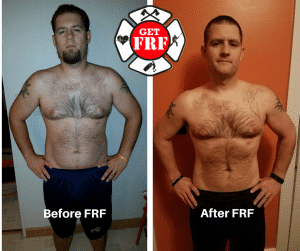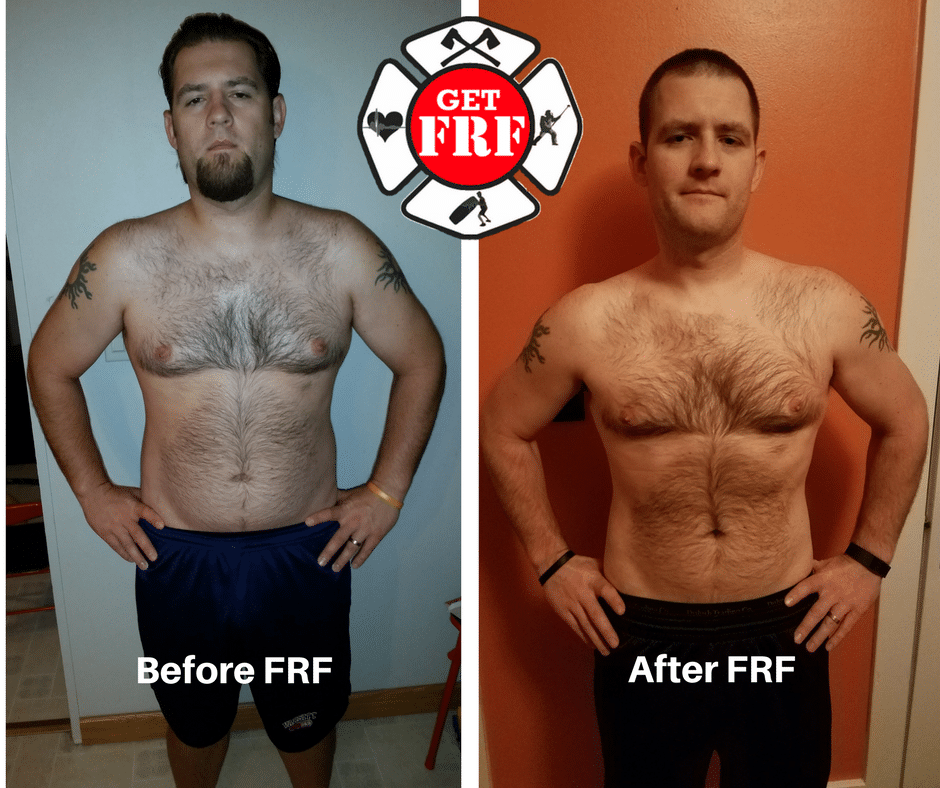 My name is Ken Straka, I am a volunteer firefighter with the Fennimore fire department. I bought the Get FRF program to get myself in better shape and in hopes to get a few members of our department to join in with me. This program intrigued me as soon as I saw it, I thought that it would be beneficial to me not only for physical fitness but also improving my ability to perform on the fireground.  After completing the program I find that I have more energy at work and at home, and I also feel that I have better stamina on the fireground. That could be due to not having to carry around an extra 20 plus pounds with me all day every day.  When I pick up a 20 pound weight and think to myself, "I was carrying this around 24/7" it blows my mind.
I was able to achieve this by following the workouts and by applying the eating guidelines.  the results I got were contagious as more members of my department are now "Getting FRF!"
Thanks AZ for a great Workout Program…. FRF for Life
-Ken Straka 
Click here for more information on the program Ken used to get his amazing results.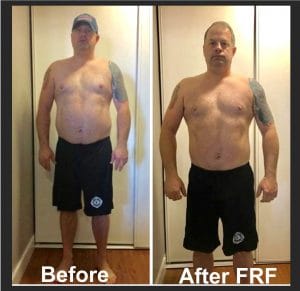 I wasn't going to be "the guy" who slowed down my crew or my Scott Challenge Team.  I was determined to get in my best shape to prove to my team and myself that I was "fit for duty."
To get my result i used the rapid fat loss program some clean eating!  During the course of the program I lost 22 lbs. and over 6 inches in my waist!  I also gained some great muscle and developed better cardiovascular fitness.
My results have others on my shift getting active.  I look forward to seeing my results pay off on the combat course this year.  Thank you for the workout program!  Get FRF!
— Dave Connors
Click here for more information on the program Dave used to get his amazing results.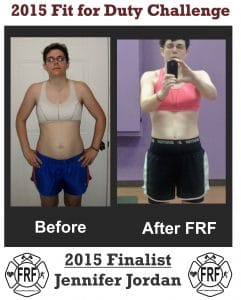 The first weeks were brutal, but I soon felt stronger than I have ever been. I was honestly surprised at the results I saw. I started out at 156 pounds. After completing Foundations I'm down to 150. I lost two and a half inches off my waist and the rest of me toned up quite nicely. I think the best part is I am feeling more energetic and am able to last longer on the fire ground.
-Jennifer Jordan
 Click here for more information on the program Jennifer used to get her results.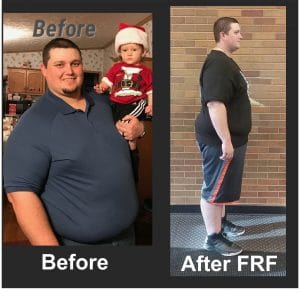 I tried other workout programs in the past,  only to fail and gain back everything I had lost (and even more).  I messaged Fire Rescue Fitness Facebook page.  Aaron suggested that I do the FRF Ultimate Fire Rescue program. I started doing some reading about the program and watching YouTube videos he had posted. Right around Christmas I purchased the program which at that time I had become the heaviest I had ever been 424 lbs. at 6'3" height that put me at a BMI of 53.0.  As I looked at my before picture of me and my nephew I didn't see what I wanted to be.  I knew something had to change.
So, I printed out the log book and set the start date. I planned the week before starting the workouts to transition into the healthier eating to get my body ready.  I noticed my weight dropped right away which motivated my wife to start doing the diet with me which was a big help to my success.  One of the best aspects of the Fire Rescue Fitness programs is that each program has a log workbook which shows how to do each exercise and track your workouts (and help motivate you to improve).
After the 12-week program, I noticed a lot of healthy improvements.  I get a full night's sleep a lot easier, I wake up ready for the day and not dragging (except when we have those 2 am medical calls but it's what we do), and I also notice I get fuller faster with the healthier food choices.   Most importantly, I have also lost a total of 50lbs now down to 374 lbs!  I have also lost over 10% bodyfat have lost over 4 inches in my pants waist. I have a lot of people around me that see my results and as what I am doing.  I am quick to tell them my results and direct them to Fire Rescue Fitness. I have tried a lot of programs this is the first that I have ever seen this big of results.
My work is not done, however, as I have already started another workout with Fire Rescue Fitness and see a round 2 of Ultimate Fire Rescue in the near future.   Thanks FRF for the great work out program!
— Josh Fulk
Click here for more information on the program Josh used to get his results.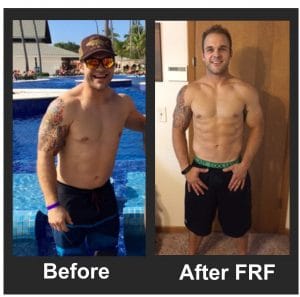 I started the workout t 193 lbs. and ended the 12 weeks at 174 lbs! I lost over 19 pounds and a ton of bodyfat.
I really enjoyed the mix of cardio sprints and lifting that the Ultimate Fire Athlete Program included. That along with the better portion control and using a few of the recipes from the included cookbook really helped me break through the rut I was in.   I feel that one of the major results I got from the program was the stretching and emphasis on core work, I noticed I recovered faster with the help of the foam roller and that my lower back became stronger with the core drills.
-J Hattrup
Click here for more information on the program Jon used to get his results.