---
Perform 2 circuits of the following 5 exercises:
1.  Chops (5-10 reps)
2.  Knee Hugs (5-10 reps each)
3.  Spidermans (5-10 reps each)
4.  Knees side to side (5-10 reps each)
5.  Quadraped Rotations (5-10 reps each)
Then progress to the workout.... (scroll down).
Click on the video below for a workout preview...
---
Here is a recap of the workout (you can change the exercises based on your available equipment).  Remember to always start with and do not skip the active warm-up (see above).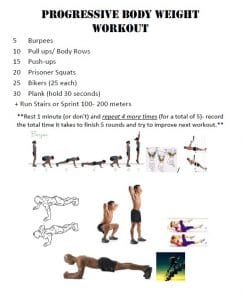 click to enlarge picture
-5 burpees
-10 Pull-ups (or body rows)
-15 Push-ups
-20 Prisoner Squats
-25 Biker crunches (25 each side)
-30 seconds plank
-1 minute of running stairs or sprints (some type of cardio)
Repeat for time a total of  5 rounds (if your just starting out, aim for 3 or 4 rounds).
Let me know if you have any questions.  You can substitute the exercises based on your goal and available equipment.
Stay safe and Get FRF!
Aaron Zamzow
The above workout is an example workout from the New FRF 28-day QuickStart Workout.  Need to get back on-track?  This program will help you get leaner, stronger and moving better on the fireground. Right now you can get the Program for ONLY $19!  Program includes workouts, exercise tutorials. crew workout options, no-equipment options, eating guidelines, recipes, snack options and access to special coaching group.  ONLY $19.