FRF Nation Special FRF Ultimate Fire Athlete Offer
Get 12 weeks of workouts that will take your fitness to an "Ultimate" level.
As a special bonus for being a FRF Nation member and previously purchasing a FRF Workout, I want to make a special offer that can help YOU become the "Fittest" Firefighter on any Department!
The FRF Ultimate Fire Rescue Athlete Workout is the most comprehensive workout program for Firefighters, EMTs and Paramedics.  This workout will add to the progress you will make with the FRF Foundations Program and take your level of fitness to its "ultimate" highest.  The FRF Ultimate Workout has taken over 10 years to develop and perfect and will add on to all aspects of your fitness  (conditioning, strength, and power).  This program creatively integrates fire ground movements and 10-minute interval overhauls, challenge workouts, crew workouts and will build power, strength, muscle, and burn fat.  This program is intended for those Fire Rescue Athletes that have completed the FRF Foundations Workout and/or FRF Rapid Fat Loss Program and are now looking to take their fitness to the highest  level.  The FRF ultimate workout is the most practical and result producing exercise program there is. 
The 12-week program includes:
12-week Training calendar

9 full-body efficient and effective workouts

Over 10 different Interval cardio workouts

Over 100 Exercises including tutorial guides and videos

Numerous efficient 10-minute Interval Overhauls

Fire Rescue Athlete Training rationale-  Including workout options for on-duty and crew workouts (group workouts)

Core exercises and stretches (including a stretch and recovery guide)
……and 5 challenge workouts to motivate and elevate your progress-  these short and unique  workouts are an instant cure for workout boredom AND fitness plateaus. 
But remember… this is a Special Offer for FRF Customers.  You can buy the program for yourself or for a friend or crew member (limited time).
[waiting name="special summer offer"]
Offer Ends Soon!
Regular Price 

$99.99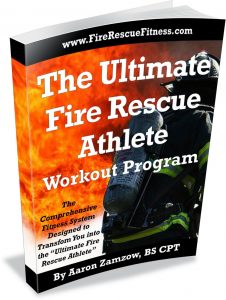 2017 Fit for Duty Special Offer!

This is a downloadable e-book program. You will NOT receive a physical package shipped to you in the mail. The entire package will be immediately available for you to download and get started right away after ordering. This program is NOT available in stores, so you can only access it through this website.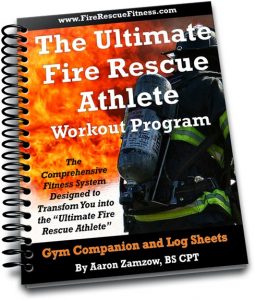 Order today and get –  FRF Ultimate Fire Athlete Gym Companion and Log Sheets ($39.99 Value). -Print these out and take the workouts and nutrition tips with you anywhere. The Quick Reference Guide and Workout Logs contains exercise photos and descriptions, coaching tips, log sheets for each workout and can be viewed on any mobile device (with the free adobe mobile reader). Great to print out and take to the gym.  Also includes an exercise substitution list…
 This is the same program that Doug Franklin and Lisa Charbonneau and John Hattrup used to get "Fit for Duty."  
You can be next….
What other Fire Rescue Athletes are saying about the Program…
*The Results shown are based on active and strict participation in our program. Results may vary based on individual user and are not guaranteed.*
"Hey Aaron, I've done a lot of different fitness programs…..P90X got me ripped but made me feel slow and tired on the fire ground. Then I tried CrossFit, it got me in great shape, but eventually my joints were hurting and my performance struggled. I bought the FRF Ultimate Athlete (actually to prove you wrong) but you NAILED It! I finished the first 8 weeks and I am in the best shape of my life…strong, lean and able to "fly" on the fire ground….Nice work!"
-T Higgins (Illinois)
"I must admit, I was that guy that everybody on the department was afraid to work with. I was 60 pounds overweight and a "heart attack waiting to happen." I decided to purchase the FRF Foundations program and FRF Ultimate Fire Athlete and give it a go. I am happy to say that I am down 50 pounds and halfway through the FRF Ultimate Athlete program. I have some more things to improve on but had to tell you how your program has changed my career. I am now the guy people ask about fitness (to which I send them to you). Thank You!"
-Mike Miller (NSW Fire Department)
"Aaron, Thank you very much for creating the FRF Ultimate Fire Athlete! I started the workouts in prep for the Civil Service PAT, trying to get on the job FT. I tried Crossfit a few months ago and got the same feeling after your workout, without the painful back and knees! Your workouts are great, easy to follow and man, do they kick my a$$. Thank you!"
-Charlie K (Massachusetts)
"So far, I LOVE IT! Lost 8 pounds in the first month and my core is stronger than ever. I feel more flexible and move faster. The interval overhauls are a great idea and an easy way to incorporate "real" fire ground movements. Looking forward to the next 8 weeks….."
-R. Heltsrtun (Wisconsin)
"Great stuff! Since I incorporated your workouts into my training, my ability on the fire ground has skyrocketed. That cardio spike can be felt at nearly every fire I ever fight."
-A Willis (Tennessee)
"Finally someone gets it! I'm a professional firefighter searching for a fitness program that understands the demands of my job. Aaron's program not only makes you a more efficient firefighter but a leaner, stronger athlete. The program is written for athletes yet is practical and easy to follow. I use the workouts with my crew, we are all seeing great progress. I HIGHLY recommend this program to anyone who is serious about being the best Fire Rescue Athlete they can be. …losing weight and reaching their fitness goals."
-C. Gaylord (Minnesota)
---
You can get access to the revolutionary FRF Ultimate Fire Athlete system for less than a month's membership at your gym or a dinner for two at a nice restaurant.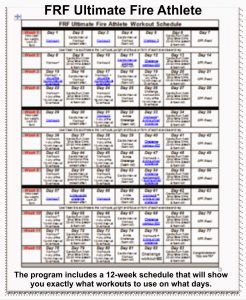 12-week training calendar with daily workout plan that explains what you need to do each day (strength, core, cardio, flexibility, recovery, power, intervals)

12 full-body efficient and effective (strength, power and conditioning) workouts

5 different challenge workouts to test your level of fitness and bring it up to the next level. These workouts are great to use with a group or your crew to push each other.

Core exercises and stretches that will make you move more efficiently and PAIN FREE. These exercises alone can add 5 years to your Fire Rescue Athlete career.

Interval Cardio Workouts that incorporate fire ground movement patterns. These workouts are less than 30 minutes and can be completed on-duty, at home..anywhere really.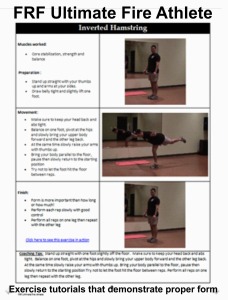 Over 150 Exercises with guides that are easy to follow (and printable) that instruct you on proper form. Each exercise links to a video showing it in proper motion also. Most importantly, the program explains how, why and when to do each exercise.

Fire Rescue Athlete Training Rationale- why the program is so effective…
Active Warm-ups and Prehab: A routine that replaces traditional pre-exercise stretching. The warm-up will increase blood flow to your joints and muscles and get you ready for an effective workout. The prehab section takes a proactive approach to protecting yourself from injury. These exercises will improve hip, core, and shoulder strength and focus on core stability.
Functional "Fire Movement" Strength Training: A new approach to resistance training based on training body movements for increased power, stability, mobility and cardiovascular fitness. These exercises not only challenge your muscles, but your heart, and your will. Watch your form, as you get tired you want to make sure you don't lose it.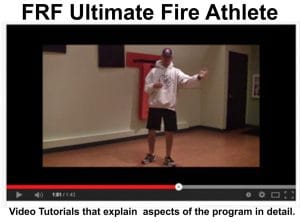 Cardio Interval Training: A departure from traditional cardio work, creating a call for bursts of effort. This component challenges the heart, as well as boosts metabolism and mimics the high intensity of work performed on the fire ground.
10-minute Interval Overhauls: These interval Overhauls are a combination of exercises that challenges the total body, allows you to work on firefighter skills and simulates work on the fire ground! You'll discover these Overhauls can more realistically simulate the exhaustion felt on the fire ground and rescue scene.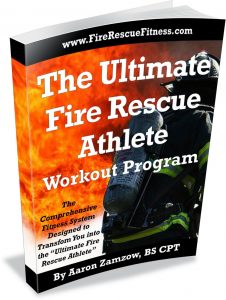 Normally $99.99

 This is a downloadable e-book program. You will NOT receive a physical package shipped to you in the mail. The entire package will be immediately available for you to download and get started right away after ordering. This program is NOT available in stores, so you can only access it through this website.
Nutrition is a huge component to your fitness success.  So, to insure your success I am including Standard Operating Procedures to Eating Lean in the Firehouse with every purchase (just updated).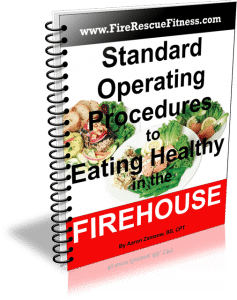 I will also include the FRF Healthy Firehouse Recipe Cookbook the the first 100 FRF Members that take advantage of this offer.  The Cookbook has over 30 healthy, easy, quick and "crew approved" recipes.