FRF Nation Special Fat Loss for Firefighters Offer
Get 6 weeks of Metabolic Fire Rescue Workouts that will make you a Leaner and Stronger Fire Rescue Athlete…
As a special bonus for being a FRF Nation member and previously purchasing a FRF Workout Program, I want make you a special offer that can help you reduce your waistline, get you stronger and ultimately more "Fit for Duty."
The FRF Rapid Fat Loss for Firefighters
The Rapid Fat Loss for Firefighters program was designed for those Fire Rescue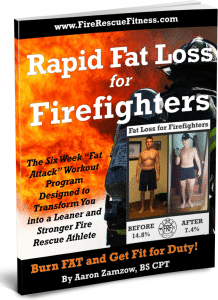 Athletes that want to get leaner and stronger in only 6 weeks.  This is a complement  to and uses the same fitness principles that make the FRF Ultimate Fire Rescue Athlete Workout so successful.  The FRF Rapid Fat Loss for Firefighters Program focuses on challenging you metabolically to help burn away stubborn body fat and creatively integrates "fire-ground" functional movements and intervals into each workout.  The workouts can also be performed as a crew or with friends and will "challenge" you to continually improve your fitness.  
This is the solid "go to program" if you need a change or need to start-up from a "fitness" hiatus.  This program is guaranteed to burn calories and will help you get your turnouts and uniform fitting better.  The 6-week Rapid Fat Loss Program includes:
6-week Rapid Fat Loss Training calendar

Full-body efficient and effective workouts including 2 challenge workouts

Different Interval cardio workouts including crew workout options

Over 30 Fat Burning Exercises that will challenge every muscle in your body

Exercise tutorials and video links

Highly Metabolic Interval Overhauls

Fire Rescue Athlete Training rationale

Including workout options for on-duty and crew workouts (group workouts)

Core exercises
These unique workouts are an instant cure for workout boredom AND fitness plateaus.
This is the same program Adam Hurford, Josh Fulk and Kevin Glover used to get these results…. 
Here are the results some other FRF Members got with the program…
"Hey Aaron.  Just wanted to say thanks for the easy to follow workout program and eating guidelines. Today is day 28 of the program for me and I am happy to report I had great success. Total weight loss for me in the 28 days was 10.5#, I lost 1 1/2 inches off my waist, 5 inches off my belly.  What a nice feeling it is to have loose fitting pants again. Thanks again and I will let you know the results when the program is finished.  Thanks Again and Take Care."
-Charlie Bau
"So far, I LOVE IT!  Lost 8 pounds in the first month and my core is stronger than ever. I feel more flexible and move faster.  The interval overhauls are a great idea and an easy way to incorporate "real" fire ground movements.  Looking forward to the next 6 weeks….." -R.  Heltsrtun
"Hey Aaron, I just have to send you a message to thank you for the workout program.  As of today I have lost 22 lbs., my body has definitely changed and become more defined and my turnouts are fitting me better.  The Eating Guidelines were a huge help and the cardio intervals kicked my butt in-shape.  I have a lot more energy!  I don't feel rundown and tired after long calls now.  Thank You!" -J. Markels
"Hey Aaron, Thank YOU for your program.  I've only been on it for just over a couple of weeks and I'm already seeing results. I'm fitting into pants that I couldn't get into a couple of weeks ago.  I really notice a difference on calls now, I'm able to climb in my gear and don't fatigue like I used to.  I'm moving better, stronger and definitely leaner!" -T Heptins,
This is a special offer for FRF customers (as a thank  you for your support).  You can buy the program for yourself or a friend… but hurry because it is a limited time offer of $10
[waiting name="special summer offer"]
Offer Ends Soon!
And…As a Bonus,

I am including the printable FRF Rapid Fat Loss for Firefighters  Gym Companion and Log Sheets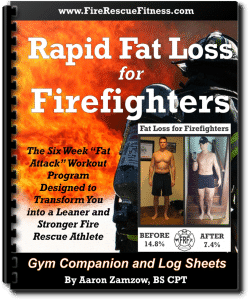 Nutrition is a huge component to your fitness success.  So, to insure your success I am including Standard Operating Procedures to Eating Lean in the Firehouse with every purchase (just updated).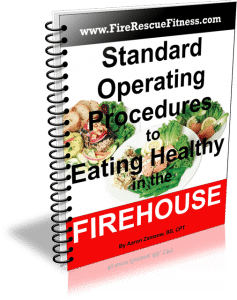 I will also include the FRF Healthy Firehouse Recipe Cookbook the the first 100 FRF Members that take advantage of this offer.  The Cookbook has over 30 healthy, easy, quick and "crew approved" recipes.
 
---
Regular Price 

$59.99
***Please note this is a downloadable PDF eBook, not a printed book***